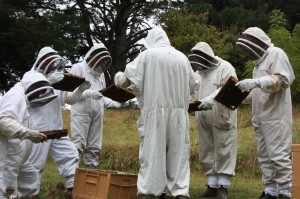 Experience a one day beekeeping course for beginners with Alf and Sharon who have 35 years experience handling bees and producing honey in Victoria.  We offer two separate courses:
Early Season (Springtime) Beginners Course
Dates (2014):
Saturday 23rd August
Saturday 6th September FULLY BOOKED
Saturday 13th September FULLY BOOKED
Saturday 20th September
This is a three hour workshop which covers the necessary knowledge required to feel confident to purchase your own backyard beehive.
Brief Outline:
10am-11:30:   A presentation by the beekeepers and display of beekeeping equipment.
11:30 – 12 noon:  Morning tea provided, cuppa and cake.
12 – 1pm:  Presentation and discussion continues.  Students will walk near beehives in our apiary to observe flight paths of the bees and discuss the siting and orientation required in a backyard.  There will be a maximum of 8 students per lesson.  The course content will include:
description and display of equipment required to set up your own hive
a short history of the Langstroth hive and the significance of the bee space
the biology of the honeybee including a description of the castes and life cycle of the bee
description of the main races of the honeybee available in Australia and their characteristics
a description of the biology of the flower and it's relevance to the honeybee
description of the causes and practical methods of prevention of swarming
a description of bee pests and diseases, their symptoms and prevention
details of communication among honeybees in the hive
discussion of the issues that arise in the keeping of bees in a suburban backyard and the Apiary Code of Practice
registration requirements and food safety issues.
The course cost is $140 and a non refundable deposit of $40 will be payable to secure your booking. The balance of $100 will be payable one month before the course date.   We will contact you at that time.
Summer Season Beginners Course (available from November 2014 onwards)
Dates (2015):
Saturday 10th January 2015
Saturday 24th January 2015
Saturday 7th March 2015
Maximum of 6 students.
This course is only available in the warmer months of the year as it involves direct observation of the bees by opening up beehives at our Apiary here in Upper Beaconsfield.  Bees are very sensitive to weather conditions and hives should only be opened on warm sunny days to avoid disrupting the temperature control of the hive.
This course will involve the presentation by the beekeepers as described above and will have a post lunch (cuppa and sandwiches provided) practical session.
Protective clothing will be provided unless you wish to bring your own and students will be required to sign a disclaimer indicating that they are not allergic to possible bee stings.  In the afternoon, the practical observation of hives will include:
Demonstration of the correct method of opening a hive and use of protective clothing
Use of the smoker and hive tool
Examining brood and honey frames and finding the queen.
The course cost is $200 and a non refundable deposit of $50 will be payable to secure your booking. The balance of $150 will be payable one month before the course date.  We will contact you at that time.
You can read a participant's review of our course at her blog.  If you are interested in attending a workshop or course, please contact Anna and nominate your preferred date.