2013/14 Dates
November: Saturday 9th – fully booked
Saturday 23rd – fully booked;
December: Saturday 7th – fully booked
If you are interested in attending one of our classes, please email us specifying the date you wish.  See below for an outline of the course offered.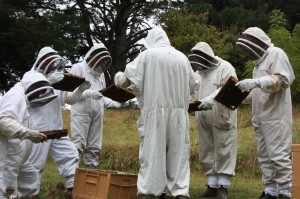 Experience a one day beekeeping course for beginners with Alf and Sharon who have 35 years experience handling bees and producing honey in Victoria.  The day is divided into two sessions:
10am – 12 noon: Will involve a presentation by the beekeepers and display of beekeeping equipment. 1pm – 2pm: Lunch provided, cuppa and sandwiches. 2 pm – 3pm: Opening beehives and observing bees here at our property at Upper Beaconsfield. There will be a maximum of 5 students per lesson.  Protective clothing will be provided unless you wish to bring your own. The course will include:
description and display of equipment required to set up your own hive,
a short history of the Langstroth hive and the significance of the bee space,
the biology of the honeybee including a description of the castes and life cycle of the bee,
description of the main races of the honeybee available in Australia and their characteristics,
a description of the biology of the flower and it's relevance to the honeybee,
description of the causes and practical methods of prevention of swarming,
a description of bee pests and diseases, their symptoms and prevention,
details of communication among honeybees in the hive,
discussion of the issues that arise in the keeping of bees in a suburban backyard and the Apiary Code of Practice,
registration requirements and food safety issues.
In the afternoon the practical observation of hives will include:
a demonstration of the correct method of opening a hive and use of protective clothing,
use of the smoker and the hive tool,
examining brood and honey frames and finding the Queen.
The course cost is $180 and a non refundable deposit of $40 will be payable to secure your booking .  The balance of $140 will be payable one month before the course date.  We will contact you at that time.  You can read a participant's review of our course at her blog.